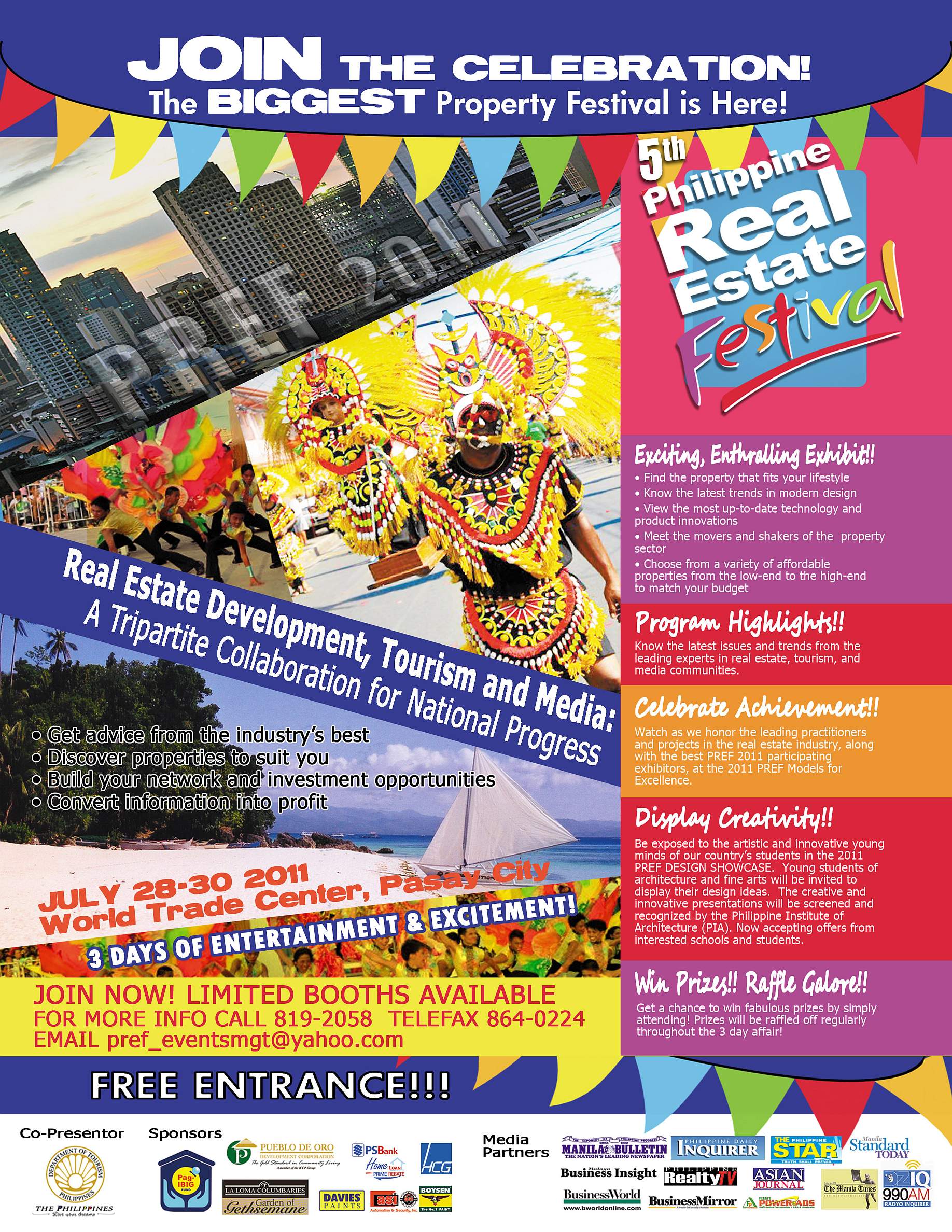 Finding that prime real estate property to suit your needs and budget is no easy task. What can add further aggravation is the seemingly tedious process of purchasing a property and looking for ways to fund it. The Philippine Real Estate Festival, which will be held on July 28-30 at The World Trade Center in Pasay City, provides the fastest solution to this and more, providing a one-stop gateway for real estate information in the Philippines.
There are 10 reasons to make your trip here worth your time. There are no entrance fees and the seminars are free of charge!
1 Price discounts on top real estate projects. Discover a wide portfolio of real estate projects from the country's top and most reliable real estate developers—from low-cost housing, medium rise to high-rise condominiums and resort developments. The variety of options in the exhibit will guarantee a perfect match for your property needs. Get good bargains and special discounts!
2 Distinguished speakers. Gather insights on current real estate issues from the esteemed roster of speakers during the three-day seminar. No seminar fees! All select speakers are experts in their field. Learn and improve your knowledge to keep abreast of issues affecting the property sector today.
3 Agency helpdesks. Valuable information and advice from the HDMF (Home Development Mutual Fund) or the Pag-Ibig Fund and other key shelter agencies. The National Housing Authority, Housing and Land Use Regulatory Board, Social Housing Finance Corp., National Home Mortgage Finance Corp. and Home Guaranty Corp. will have helpdesks ready to answer questions regarding real estate concerns and inquiries such as funds access and housing loans.
4 LGU-backed housing. Know how your local government can help your community through the provision of housing during the presentation of "Sandaang Bahay Bawat Bayan" concept paper. A "must" to all local government units that have housing projects planned for their constituents is an easy step-by-step guide. Free copies are available to the first 200 attendees.
5 Employee's housing. Be guided on how to embark into housing projects for your company or members through easy steps. Get hold of a copy of the concept paper "Sandaang Bahay Bawat Kompanya, Kooperatiba, Atbp (sa Pribadong Sektor)." Free copies are available to the first 200 attendees.
6 License renewal. Beat the July 30 deadline for the renewal of broker's license. No need to go to the Professional Regulatory Commission office in order to get your license renewed. Just visit the PRC booth. PRC representatives will also be present to address your licensing inquiries.
7 Know the true value of your real estate property. Free table appraisal services by officers and members of Philippine Association of Realty Appraisers (Para).
8 Design showcase. Be amazed by the ingenious architectural design concepts and plans from students of our top universities and schools in the country today through the Philippine Real Estate Festival-Philippine Institute of Architecture (PIA) design showcase.
9 Excellence awards. Be inspired by the notable practitioners and projects that made significant contributions to the property sector through the Philippine Development and Training Foundation Inc. (PDTF)-JC Leaders International (JCLI) Excellence Awards.
10 Exciting entertainment. Meet your favorite celebrities and enjoy dazzling performances through three succeeding days of Celebrity Nights. Enjoy the talents of your favorite show-biz personalities!
By: Joel Nigos
"10 reasons to visit the Philippine Real Estate Festival"
Philippine Daily Inquirer